Image: Abraham's departure - József Molnár.
Preamble to today's tour:
Our reading today starts at Chapter 12. Allow me to show you some background information which is pertinent to Abram and today's reading.
Even after all these punishments - exit from Eden, the great flood, failed project of tower of Babel, people were still not walking in the ways of God. During the time of the failed project of Babel, Nimrod, the great grandson of Noah, was the king of Shinar - Bible does not say that Nimord specifically order the construction. The land of Nimrod is a synonym for Assyria or Mesopotamia. One of the ancient wonders of the world is attributed to 'the hanging gardens of Babylon'.
Nimrod had inherited the 'coat of Adam' - the one that God made for Adam. Adam had given his coat to Seth, who passed them down to Noah, and eventually reached Nimrod. It is said that all animals on earth obeyed whoever wore this garment. Further, every king on earth recognized Nirmod's authority. He was allegedly, the first king to wear a crown studded with jewels. Technically, Nirmod was the very first king to wear a robe (Adam's clothes) and a jewel crown, to display sovereign authority over everyone - humans and animals. Nimrod did not stop there - his image was displayed all over the country and people were to serve him and bring him offerings.
Terah, a great grandson of Noah's son Shem, and Abram's father, was a prominent member at Nimrod's court. The night before Abram was born, a discovery was made by few of Terah's astrologers by reading the constellation of the stars. This discovery was about a newly born child who was to become the chief and the father of a mighty nation. This news was communicated by Terah to Nimrod, who became afraid that the new star might darken his own. Jealous Nimrod asked Terah to bring that child to him so that he can kill the child. Terah did his best talking Nimrod out of it, but did not listen. After much thought, Terah risked his as well as his family's life and substituted his servant's child instead of Abram. Nimrod killed that child with his own hands, while Abram was hidden in a cave. For his loyalty, Nimrod offered Terah higher honors in the court, and he accepted any new idols introduced by Nimrod.
In the meantime, Abram stayed in the cave until he was 10 years old. Watching the sun, moon and stars, he reasoned in a Higher Power which was invisible, and perceived the existence of God. God revealed Himself to Abram and later Abram went and stayed at Noah's house for many years, where he studied about God. When Abram heard about the idol worship. he decided to do everything in his power to crush that belief. He used to talk to every visitor at his father's house and did his best at convincing many. Terah, Abram's father refused to listen to his own son and continued idol worship.
One day, Abram took an axe and destroyed all those idols except the large one. When Terah learned about this, he of course, suspected Abram and inquired about this. Abram said, "The largest idol was unhappy with the offerings made by the smaller ones, and therefore got into a fight and killed them." Terah was furious and said, "That is impossible, since idols do not quarrel or fight." He knew his son Abram had tricked him and was extremely angry. Forgetting the whole episode of hiding Abram in the cave, he went and complained to Nimrod about his son's disrespect towards idols.
Nimrod had Abram imprisoned and condemned death by fire. People all over the country came to witness the son of Terah being burnt alive. Abram was vocal and accused Nimrod for reducing his people to the state before great flood. When accused and condemned, Abram shouted in the court that Nimrod had no power over the will of God, and God was the one who gave the burning power to fire itself, which he could take away.
Abram was thrown into the fire and for three days and three nights people watched Abram walk in the midst of flames without any harm. Nimord had to acknowledge this truth and ordered Abram out of the furnace. Later, Abram was sent home with several gifts. About 200 people of noble descent from Nimrod's court followed Abram to learn about God. Among them was Eliezer of Damascus, who would become Abram's most trusted servant.
Abram weds Sarai:
Abram married Sarai, who was extremely beautiful (see below). Sometime later, Nimrod sent men to secretly kill Abram. Learning this, Abram fled to Noah's house where he lived as a child. Later his father, Terah joined him and they go towards Haran in Mesopotamia. People in Mesopotamia did not worship God, but idols. Abram was the only righteous man there. In Mesopotamia, Terah dies at the age of 205.
This is where our tour for today starts, at chapter 12:
God appeared to Abram, who was 75 years of age, and said,
"Go from your country, your people and your father's household to the land I will show you.
I will make you into a great nation,
and I will bless you;
I will make your name great,
and you will be a blessing.
I will bless those who bless you,
and whoever curses you I will curse;
and all peoples on earth
will be blessed through you."
Abram took is nephew Lot, and left Haran (Mesopotamia). When they were in Canaan, God spoke again, "
"To your offspring I will give this land."
Abram's trip to Egypt:
Abram built an Altar for God and proclaimed the word of God wherever he went. A famine was going on everywhere. Egypt, located on the fertile banks of river Nile was Abram's next destination. Abram had heard enough about those evil ways and low morality of Egyptians at that time. Abram was indeed worried because his wife Sarai was extremely beautiful, and he even feared for his own life - those Egyptians may kill him and keep his wife. He then comes up with a plan - to hide Sarai along with his luggage, and smuggle her into Egypt. He also tells her to say that she is Abram's sister. The customs officers discover Sarai and the news about such a beautiful woman reaches the ears of Pharaoh. Sarai was taken into Pharaoh's house, and in exchange of her, Abram was given several presents. Pharaoh was planning to make Sarai his wife and with that in mind, he gave in writing all his substance, whether silver or gold, or servants or farms, and also the land of Goshen as an inheritance. Later, the children of Israel dwelt in the land of Goshen, saying, "This is Sarai, our mother's, land."
In the night, God appeared to Sarai and assured her that no harm would come to her. Soon, a plague comes over Pharaoh and his men so that they could not go near Sarai or even touch her. Next, Pharoah called Abram and rebuked him for not having revealed to that Sarai was his wife. The Phraaoh let Abram & Sarai keep all the gifts he gave them and have them leave his country immediately.
Abram and Lot part ways:
After the famine ended, Abram and his household, among them his nephew Lot, returned to their old place in Canaan. By now, Abram was wealthy and rich. Both Abram and Lot had an abundance of sheep and cattle. The shepherds of Abram abided the laws of their master, while those of Lot were rough and did not always respect the law. This created constant arguments and strife between these two groups. When word reached Abram, he called Lot and decide to separate, giving Lot the option to chose.
The valley near Jordan was fruitful and Lot decided to go towards Sodom. Meanwhile, God pledges to Abram, "I shall make your seed as the dust of the earth, so that if a man can number the dust of the earth, then your seed shall also be numbered. Arise, pass through the land, in its length and in its width; for to you I shall give it." Thus, Abram headed towards Hebron.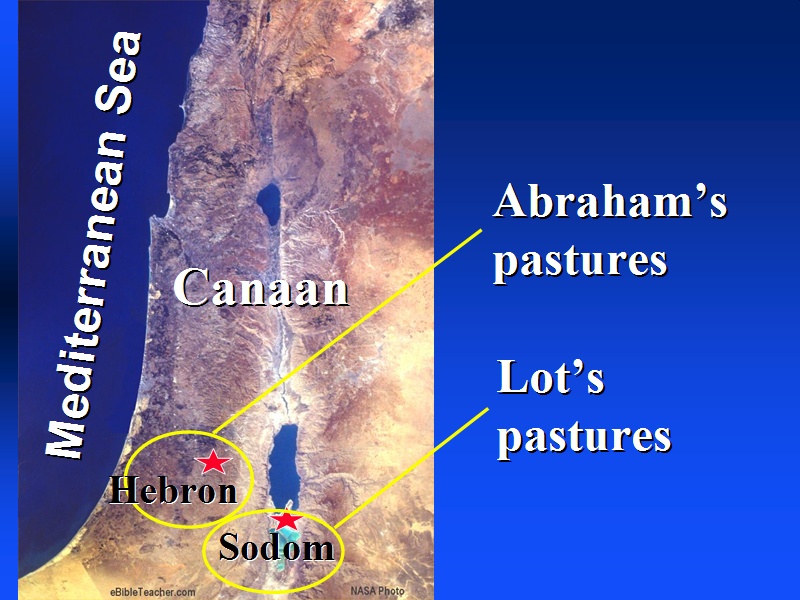 Rescue of Lot:
Jordan had 5 old cities and two among them were Sodom and Gomorrah. The king of Elam attacked these cities and later took possession of all it's wealth, women, slaves and prisoners. When news reached Abram that his nephew has been taken prisoner by king of Elam, he immediately gathered 318 men and attacked the army by night. With the help of God, aided with several divine miracles, the small group defeated the king's superior army. Later, he recaptured everything and brought back all his wealth, freeing prisoners, women and slaves, all while singing praise for God. When the king of Sodom heard this, he offered his entire wealth to Abram. Abram turned down the offer stating he cannot accept wealth of idol worshipers - even a thread, but let his leaders Aner, Eshkol and Mamre have their share.
God again appeared to Abram and offered further protection and great reward. Abram now shares his worry about not having children and his plan about sharing his inheritance to Eliezer of Damascus. God promised him a son and Abram believed it. To enhance His promise, God asked Abram to come out of his tent, look heavenwards and count the stars. He believed in God's promise, and God gave him credit for his faith. Shortly, God again appeared to Abram and shared a 'not so good news' that his seed will be strangers in a land for 400 years. Abram offered sacrifices for God and God reappeared and assures him that his children will have the rand from river of Egypt to river of Euphrates.
Abram accepts Hagar:
Everything was going well with Abram except the concern that he did not have children and both his and Sarai's biological clock was ticking. On his 85th birthday, Sarai asked Abram to take Hagar per the code of Hammurabi (see below). Hagar, prior to becoming Sarai's maid was a princess in Pharaoh's house. Hagar preferred being a maid slave at Abram's house, rather than a princess.
Abram accepted Sarai's advice and took Hagar as wife. Upon hearing about Hagar's pregnancy, Sarai mistreats her, and Hagar ran away into the wilderness. There, an angel of God appears to Hagar and asks her to return to her home. Hagar gave birth to Ishmael. Islamic traditions consider Ishmael to be the ancestor of certain Arab people (see below).
The Covenant:
When Abram was ninety-nine years old, God appeared unto him again and changed his name from Abram to Abraham, meaning "the father of a multitude of nations." Sarai (meaning princess), received the direct blessing of God and got her name changed to Sarah, meaning 'noblewoman'.
Now, God made a covenant with Abraham, and per this covenant, his future generations should follow the path of God, and the land of Canaan was promised along with His protection and care. As a command for circumcision was then given as a symbol of this protection. Every newborn boy should be circumcised at the age of 8 days.
Finally God told Abraham that he and Sarah will have a child. Hearing this, Abraham fell facedown; he laughed and said to himself, "Will a son be born to a man a hundred years old? Will Sarah bear a child at the age of ninety?"
God finally, said they should name him Isaac.
Abraham at the age of 99, Ishmael 13, along with all other elder male members of his household underwent circumcision.
The Three Guests:
Abraham was still in pain from his circumcision, recovering on a hot day when he saw three Arabs wandering.
Abraham, forgetting his pain, urged these Arabs not to pass by, but to rest beneath the shade of the trees, while he fetched water to wash their feet, and bread for refreshment. There were no servants readily available to prepare the meal. Sarah herself baked the cakes of fine flour, while Abraham got some curd, milk and also got a young and tender calf, which was made ready soon. While having their food, the Arabs announced that a year from that day Sarah would give birth to a son. Sarah, who was 90 at that time, heard this and laughed, as if treating it as a joke. Abraham soon realized who these visitors were, was extremely happy and walked along with them to seen them off.
It is believed that out of these three people, one was God Himself, and the other two were angels - all disguised as Arabs.
Two of these Angels went towards Sodom, and God stayed back with Abraham. At this time, God decided to reveal to Abraham, His future plans to destroy Sodom and Gomorrah. Listen to how Abraham bargains desperately with God:
Abraham:
"Will you sweep away the righteous with the wicked? What if there are fifty righteous people in the city? Will you really sweep it away and not spare the place for the sake of the fifty righteous people in it. Far be it from you to do such a thing - to kill the righteous with the wicked, treating the righteous and the wicked alike. Far be it from you! Will not the Judge of all the earth do right?"
LORD:
"If I find fifty righteous people in the city of Sodom, I will spare the whole place for their sake."
Abraham:
"Now that I have been so bold as to speak to the Lord, though I am nothing but dust and ashes, what if the number of the righteous is five less than fifty? Will you destroy the whole city for lack of five people?"
LORD:
"If I find forty-five there," he said, "I will not destroy it."
Abraham:
"What if only forty are found there?"
LORD:
"For the sake of forty, I will not do it."
Abraham:
"May the Lord not be angry, but let me speak. What if only thirty can be found there?"
LORD:
"I will not do it if I find thirty there."
Abraham:
"Now that I have been so bold as to speak to the Lord, what if only twenty can be found there?"
LORD:
"For the sake of twenty, I will not destroy it."
Abraham:
"May the Lord not be angry, but let me speak just once more. What if only ten can be found there?"
LORD:
"For the sake of ten, I will not destroy it."
Why did God make up his mind to destroy Sodom and Gomorrah? Let's look at it tomorrow.
-----------------------------------------------
Reading Assignment:
Genesis Chapter 12 - 18
Estimated reading time: 26 minutes
Food for thought:
"Is anything too hard for the LORD?"
------------------Additional Information 1:
Tower of Babel:
The Tower of Babel was supposed to be a tower to get into heaven. Rather than a vertical structure, it is best understood as a Ziggurat (house whose foundation creates terror). A Ziggurat was a man-made structure with a temple at its top, built to perform idol worship for sun, moon and stars. Below is an image of Zigguart of Ur, located in Dhi Qar Province, Iraq.
------------------Additional Information 2:
Beauty of Women:
Beauty is a relative thing, prized in every culture and must always be viewed in a cultural context. For a woman, there exists an external beauty and an inner beauty. Most of the times, we only talk about external or physical beauty. Below are few women considered beautiful in their own region. A woman considered beautiful in one culture may not be considered beautiful by someone raised in another culture. The inner beauty of women remains the exact same in every culture, regardless of time. Sarai was beautiful in her own culture and land.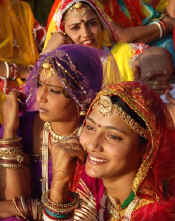 ------------------Additional Information 3:
The Code of Hammurabi:
It is a well-preserved Babylonian law code, and is one of the oldest deciphered writings of significant length in the world. This Code consists of 282 laws, with scaled punishments, adjusting "an eye for an eye, a tooth for a tooth." Nearly one-half of the Code deals with matters of contract, establishing, for example, the wages to be paid to an ox driver or a surgeon.
When Sarai let Abram have children with Hagar, she followed this particular code:
- A childless wife might give her husband a maid (who was no wife) to bear him children, who were reckoned hers. She remained mistress of her maid and might degrade her to slavery again for insolence, but could not sell her if she had borne her husband children.
Image: Abraham, Sarah and Hagar, imagined here in a Bible illustration (1897).
------------------Additional Information 4:
Abraham's Lineage:
Image: Abraham meets King of Salem after Lot was rescued, who offered him gifts, which Abraham refused - Peter Paul Rubens, 1626