Saturday, December 3, 2011
A song I used to listen to, when I was a teenager.
Posted by

Jacob Cherian
at 8:33 AM
No comments:
Links to this post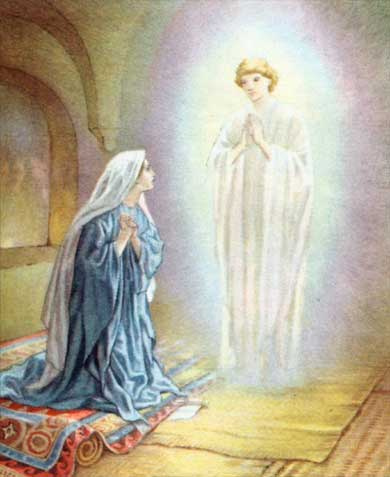 Ever faced with a situation wherein you cannot explain or communicate something to your closest friend or the individual who knows you the most?
Felt like no matter how hard you try explaining it or whatever or however you say it, you sense as though your closest friend or individual cannot be made believe?
Mary was in the same boat, two thousand years ago, when She learned that She conceived from the Holy Spirit. She could not even convince Her husband, Joseph about it. In those days, people would stone a girl to death for getting pregnant prior to wedding. Even today, while medical science is so far advanced, a human virgin birth is a matter of debate and cannot be comprehended by mere human intellect or medical science.
Zoology experts would know better about this. Asexual reproduction, also termed as 'parthenogenesis' occurs naturally in certain female invertebrate animal species such as certain lizards, Komodo dragons, scorpions, water fleas, aphids, etc., where growth and development of embryos occur without fertilization by a male. However, we do not see asexual reproduction in vertebrates.
If we put ourselves into Mary's shoes, we can only imagine the mental agony, fear and frustration Mary had to undergo, after Angel Gabriel's visit. Let's examine that part once again.
--------------- Luke 1: 26 - 38 ----------------
In the sixth month of Elizabeth's pregnancy, God sent the angel Gabriel to Nazareth, a town in Galilee, to a virgin pledged to be married to a man named Joseph, a descendant of David. The virgin's name was Mary.
The angel went to her and said, "Greetings, you who are highly favored! The Lord is with you."
Mary was greatly troubled at his words and wondered what kind of greeting this might be.
But the angel said to her, "Do not be afraid, Mary; you have found favor with God. You will conceive and give birth to a son, and you are to call him Jesus. He will be great and will be called the Son of the Most High. The Lord God will give him the throne of his father David, and he will reign over Jacob's descendants forever; his kingdom will never end."
"How will this be," Mary asked the angel, "since I am a virgin?"
The angel answered, "The Holy Spirit will come on you, and the power of the Most High will overshadow you. So the holy one to be born will be called the Son of God. Even Elizabeth your relative is going to have a child in her old age, and she who was said to be unable to conceive is in her sixth month. For no word from God will ever fail."
"I am the Lord's servant," Mary answered. "May your word to me be fulfilled." Then the angel left her.
-------------
Notice that Mary confronting with Angel Gabriel asking, "How will this be, since I am a virgin?" At first, Mary thinks humanly - like all of us and cannot digest it. That's when Angel Gabriel points Her the nature and power of God. At that point Mary had the choice of free will, either to accept the offer, or to reject it. The Holy Spirit came over Mary only after Mary gave Her consent.
Mary knew about the prevailing custom of marriage, pregnancy and so forth, and within a second, all those risks and social factors could have flashed through her mind. Could it be possible that, at that very moment when Angel Gabriel asked Her, Mary could have agreed to it because She is so used to saying, "Yes" to everything? Even though She did, would it be possible that Mary ever regretted about giving the consent and letting the Holy Spirit come over her while She had to endure so much hardships, at the age of 13? I think Mary accepted it and decided to move forward with strong faith in God.
Here is how it works - when Mary met Angel Gabriel, she knew exactly that She did not have to convince anybody else - other than herself. The Angel's visit solidified Her faith in the Lord. Once she was fully convinced, she had no fear about anybody. From that point on, all She had to do was to maintain that faith communication with God. We can learn from Mary about not to worry about what others think about us - what mattes most is what God thinks about us, and what we think about ourselves.
When we cannot fully communicate about something to our closest friend or individual, here is a key - try talking to Mary. She can understand our pain.
----
Dear Mary,
Give us the strength to walk with you. Give us hearts aflame with charity and filled with love.
.
Posted by

Jacob Cherian
at 7:40 AM
No comments:
Links to this post


Friday, December 2, 2011



If Jesus came to your house, I wonder what you'd do.

Yes if Jesus came to your house, To spend a day or two.
If he came unexpected, Just dropped in on you.

Ahh I know you'd give you nicest room, To such an honored guest.
And all the food you'd serve to him, Would be your very best.

And you would keep reassuring him, That you're glad to have him there.
That serving him in your home, Is joy beyond compare.

But when you saw him coming, Would you meet him at the door,
With arms out stretched in welcome, To your heavenly visitor.

Or would you have to change you clothes, Before you'd let him in.
Or hide some magazines, And put the Bible where they had been.

Would you turn off the radio, And hope he hadn't heard.
And wish you hadn't uttered, That last loud hasty word.

Would you hide your worldly music, And put some hymn books out.
Could you just let Jesus walk right in, Or would you rush about.

And I wonder, If the savior spent a day or two with you.
Would you go right on doing, The things you always do.

Would you go right on saying, The things you always say.
Would life for you continue, As it does from day to day.

Would your family conversations, Keep up its usual pace.
And would you find it hard each meal to say a table grace.

Would you sing the songs you always sing, And read the books you read.
And let him know the things on which you mind and spirit feed.

Would you take Jesus with you everywhere you planned to go.
Or maybe would you change your plans, For just a day or so.

Would you be glad to have him meet your very closest friends.
Or hope that they'd stay away, Until his visit ends.

Would you be glad to have him stay forever on and on.
Or would you sigh with great relief, When he at last was gone.

It might be interesting to know the things that you would do,
If Jesus came in person, to spend some time with you.

If Jesus came to your house, I wonder what you'd do.


Posted by

Jacob Cherian
at 11:47 AM
No comments:
Links to this post


Thursday, December 1, 2011
Today, I took an early flight and arrived home around 4:45 PM and surprised my family.
Last Saturday, while at a wedding, few teenage boys and girls came to me and said, "Uncle you are so tall - tell us how tall you are." I told them, "I'm just an average person."
Today at the airport, while heading towards my car with my backpack and roller board, I met this gentleman that proves my point.
This gentleman is 7'3" tall and here is how I look, relative to him. I shared this picture with my family and they were teasing me about how small I look relative to this gentleman.
Apart from that, I shook hands with him and we talked about how he shops for his clothes, shoes etc and travels on cars, trains and airplanes.
Yes, I am aware that I am just an average person, and everything is relative.
Posted by

Jacob Cherian
at 5:19 PM
No comments:
Links to this post


Welcome December - the tail end of this calendar year.
December brings us the joy of celebration. Almost everywhere, we observe decorations reminding us of Christmas.. People exchanging giving gifts and other goodies. Eyeing this as an opportunity, stores and malls have commercialized this holiday and turned around into a huge merchandise business. It's a legitimate reason for people to get together and party.
Today, let's take a moment and ask, "Why are we celebrating?"
The original event took place long time ago, and has almost lost it's meaning. We call it Advent - meaning a coming or arrival. When one of our dear family member or friends is coming to our house to spend time with us, we rejoice (a lot) and celebrate that event. Christmas is to remind us about the arrival of Jesus into our lives. Jesus coming to our house - who could be a better guest than Him?
The reason for our celebration should be due to the fact Jesus is coming to spend time with us. We have to prepare ourselves for the arrival of Jesus into our homes and our lives. Don't we prepare ourselves and stock up items when guests arrive? How would we treat Jesus if He arrived? Will we run to the door and open it wide, or will we pretend as if we never heard Him knocking on our doors?
Do you know about free will that God has given us? In order to have Jesus come into our lives, we first have to be willing to give Him our direct permission to be able to do so, as God will never force Himself on any of us. He will let us know that He will want to come into our lives and that He will always be knocking on our doors, but we will always be the ones who will decide whether or not we will be willing to open up that door for Jesus to be able to come into our lives. The reason being is that God has given each one of us a full free will and He will never violate that free will that He has given to each and everyone of us. We, as individuals decide whether to let Jesus into our homes and hearts.
Talking about preparation, let's take a moment and think how Mary, a teenage girl, would have felt prior to giving birth.to Baby Jesus. Mary did the best preparation to receive Jesus, and brought Him up - and we saw how Her only Son turned out to be.
Can we spend the next 24 days assisting Mary in helping her, welcoming Jesus? If so, our celebrations this Christmas will have a true and memorable meaning.
.
Posted by

Jacob Cherian
at 7:19 AM
No comments:
Links to this post



Sharing a song that I came across this morning:

To love a person is to learn the song
That is in their heart,
And to sing it to them
When they have forgotten.

.

Posted by

Jacob Cherian
at 7:04 AM
No comments:
Links to this post